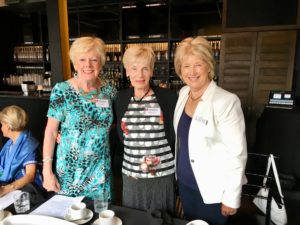 I recently joined the Communications Committee and it was decided to do an article about the 50 year members in the next keynotes. Before heading off in our sailboat to the 1000 islands I had the pleasure of talking to Jane Barber, Susie Cotton, Ann Shaw, Mary Carroll, and Gayle Dalglish about their favourite memories and what life skills they acquired from the years with the league.
When Jane Barber joined in 1967 she began by working in the Opportunity Shop, a full day once every two weeks when she could get a babysitter for the day.  That gave her a chance to meet so many people while helping with all the tasks to run a store including window dressing!
Jane was invloved in many projects and positions over the years, with so many fond memories, but when I asked what stood out, she talked about two.  While working on the Youth Crime Prevention pilot where they went into schools with a policemen to talk about the perils of crime, she went to juvenile court one day.  Honourable Judge James Felstiner was presiding and there were 3 young 12 year olds who had raided newspaper coin boxes.  They had to get a job and pay the money back.  Jane remembers what an impression it made on her, as she had her own 12 year old son at the time.  She spoke to the judge and he said the biggest problem with these youth was peer pressure.
Another very fulfilling job was with New Directions that helped newly divorced or widowed women.  The poor got government assistance and the wealthy women were okay, but the ones in the middle were lost.  They were provided with workshops, free lawyer clinics, support groups and even family therapists.  Jane found this wonderfully rewarding.
Jane said her work with the league taught her public speaking, how a board should be run, knowledge of governance, managing, leadership, training learned could be for anyone and organizational skills.  Truly valuable skill set!
Next I called Susie Cotton.  She grew up in Kingston as a child.  Her father filled his life with charitable works and used to bring Susie along.  She was always inspired by him.  When she eventually moved to Toronto as an adult she was invited to a Junior League meeting by a member who picked her up and drove her to the meeting.  It was a very warm welcome, and people introduced her around into the community.
Working with Junior League, Susie found she loved helping people, and that it got her to "spread her wings and continue to grow".  She attributes the league with the skills and confidence she gained that led to her teaching Gourmet Cooking then Cake Baking at Thornlea.  She has been in a Gourmet Group for 41 years.
Ann Shaw was introduced to Junior League when a friend put her name in with a seconder when the process was more stringent.  She had quit her job as a teacher when she was pregnant.  She was sent on a course about Career Development, and then taught it for years.  At the time there were alot more non working volunteers.  It was a way to develop stay at home moms to get back to work.  Ann's work at the league developed the many skills needed to be President of the League and then to move on in her private life to work on the Skating Technical International Committee, in which she is still involved today.
Mary Carroll grew up in Norwich and came to Toronto when she was pregnant with her 3rd child.  Diane Gibson proposed her into Junior League when she didn't know anyone and it was a wonderful way to meet interesting like minded people.  She was so impressed with the leadership, organization and fellowship and helped her to gain confidence, which eventually prepared her to sit on outside board downtown later in life.
Mary's favourite memory was working with the criminal Justice system on the North Toronto Youth Project, at a time in the 70's when the drug scene had started up. She had been a public health nurse and was assigned to a 16 yr. old pregnant teenager using drugs, with a "questionable" older boyfriend.  Mary was pregnant at the time, and they both ended up having their babies together. The young teenage mom would come over and babysit while Mary went to JLT meetings.  The young girl went to work at YWCA and eventually became a mentor herself.
Another rewarding time for Mary was on the Pilot Project with Community police from their local 53 Division that worked in conjunction with the Shoplifting Prevention program in public schools. She would go into schools with the police and talk about the ramifications of having a record later on in life.
Mary still enjoys the companionship of the many friends she made, going to shows and exhibits, playing bridge and travelling.
My last contact was with Gayle Dalglish, who stays very busy with travel, but I happened to catch her at home.  Gayle joined the league with her sister and friends.  She said getting involved and helping in different Community projects was so interesting because you really found out what was going on in Toronto.
For example, Gayle worked on the North Toronto Youth Project.  She would accompany a policeman in his car patrolling parts of Toronto to keep an eye on youth in the street, which really showed what was going on behind the scenes.
Some of her favourite memories was helping Thalidamide Children at the hospital program.  Another time at Sick Kids, assisting the doctors while they were testing children's eyesight.
Gayle stayed involved in the league because she really enjoyed helping people, and because of all the wonderful she made.
It was such a pleasure for me to talk to all these interesting and accomplished women, travelling down memory lane with them, and getting a true sense of what it was like being involved with Junior League years ago.
Written by Jan McClelland