HONOURING OUR 50 YEAR MEMBER RECIPIENTS 2020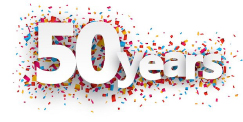 MARILYN KNOWLES
For Marilyn Knowles, the experiences the JLT provid- ed would change her life. VP Community on the JLT board, her favourite JLT position, was challenging and allowed her to work with leaders of the many teams working in the community, witnessing the two- pronged focus that Terri wrote about – civic leadership and community impact.
The leadership and organizational skills acquired gave Marilyn the confidence to run for North York School Trustee, a position she held for three terms. Marilyn related that she was very fortunate to be sent by the JLT to a workshop on Management Thinking Process- es, delivered by Kepner and Tregoe. In her role as Trustee, Marilyn introduced these processes to the NY Board of Education, so that they could implement a more rational decision-making and problem-solving process. Marilyn went on to become a workshop lead- er, trainer and consultant for Kepner Tregoe until her retirement. In Collingwood, Marilyn continued in vol- unteer leadership roles, working with Probus Clubs, the Georgian Triangle Lifelong Learning Institute and is now doing more hands-on volunteer work, "slowing down a little at 86."
What Marilyn likes best about the JLT are its members – women with strength, skills, knowledge, and good- will who work together to grow, develop and support each other.
CATHY KNOX
Cathy Knox enjoyed doing committee work, but es- pecially community placements. She worked with children with learning disabilities both in Montreal, as a member of the Junior League of Montreal, and then as a member of the Junior League of Toronto. Cathy liked the interaction these placements provided, meeting and helping others outside of the JLT.
Through the league, Cathy learned how to work with management and guide committees, along with skills like public speaking, objective setting, creative leader- ship, career development, criminal justice, and fund- raising. These skills allowed her to take on leadership roles with other charitable organizations like St. John Ambulance and the United Way of Peel Region. Cathy's favourite things about her JLT membership: the friends made, but also the privilege of being part of such a dynamic, worthwhile organization.
(Interview by Stephanie Knox)
PENNY PERRY
Penny Perry joined the JLT in 1970. Like many, her first placement was working at the Opportunity Shop (which she really enjoyed). However, Penny's favourite placement was working on the JLT's 50th anniversary, where she was in charge of physical arrangements. The event, held at the Royal York, included everything from games of chance to dinner, and brought together many Leaguers to produce a spectacular celebration. Penny commented that like many JLT endeavours, it was a lot of work and was tremendous fun. The var- ious placements Penny held allowed her to enhance her organizational skills, something I witnessed when working with her on the JLT's 90th anniversary. When asked about her favourite aspects of being a JLT member, Penny mentioned "camaraderie and the abil- ity the JLT provides to stay abreast of the times."
LETHA WHYTE
One of the first placements Letha ever held in the League – as a Juvenile Probation Assistant – was also one of her favourites. This opportunity opened up an entirely new world to her, teaching her about the justice system and family law. She had the opportunity to meet with the equivalent of what is now the Ontar- io Attorney General, who helped her and the League develop a course on the Justice System.
Her experience on the JLT Board taught her to listen to other people, which is so important in every aspect of life, but especially when serving. She loved hearing from others "who were brighter than her", helping her to formulate her own views.
In her day, women were in a very different place. The skills she learned in the League, especially public speaking and governance, allowed her to gain the self-confidence to join other community boards, including ten years on the Board for the Hospital for Sick Children.
Overall, the League instilled in her a knowledge of the broader community and the need to participate in it.
Letha believes she would not have found her way if she had not been a Leaguer. She has had a wonderful course of volunteerism in her community because of her JLT membership. In addition to the friendships she has made, it is this factor that has made her loyal to the League and a member for 50 years.
(Interview by Selby Kostiuk)
NATALIE (LEE) GARDINER
Natalie (Lee) Gardiner joined the JLT in 1955. She also spent some time as a member of the Junior League of Edmonton. Lee had community placements at the Hospital for Sick Children and the Edmonton Clinic
on Hearing Disabilities, but like many, her favourite placement was the Opportunity Shop. Lee enjoyed many JLT day trips and restaurant dinners, and her favourite thing about being a member of the JLT was the camaraderie it offered.