Civic Leader Profile – Cecile Peterkin – December 2020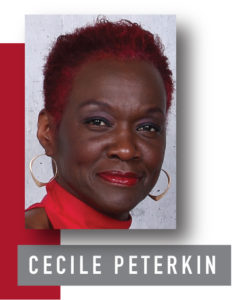 Year Joined the JLT:   2008
Why you joined the JLT or what you expected to gain from the JLT?
I met Joyce Clarke, a past president of the JLT while working on the Fundraising committee at Fife House and we connected.  At the time, new members were sponsored by existing members.   Joyce Clarke sponsored me to join the JLT.  I was drawn to the JLT due to its mission, "an organization of women committed to promoting voluntarism, developing the potential of women and improving communities through the effective action and leadership of trained volunteers…" This mission was in alignment with my value system and focused on women, children and the underserved.  I was excited about joining JLT.
General summary of your JLT experience, skills and attributes learned.
One of the main pillars of JLT is to improve communities through community projects and collaborations.   My first community placement was through the Pathways to Education Program, which was designed to provide support to youth from low-income communities.  I gained insight into the challenges faced by the disadvantaged and underserved in Toronto.
Additionally, I gained Board and community experience.  I also acquired extensive and invaluable governance training from the Association of Junior Leagues International (AJLI).
While serving on the varying JLT teams: Community, Fund Development, Communications, Membership, and Nominating, I expanded my knowledge base.  This also allowed me to engage in constructive discussions and conversations, and to challenge myself.   I was honored to take on the JLT leadership role of President Elect and subsequently as President during the period from 2010 – 2012.
How has the JLT impacted your overall life?
JLT has always been on my top ten accomplishment list.
How has your JLT experience helped in other civic leader roles or encouraged you to try other civic roles?
Early on, I had always been committed to social and political issues.  I realized that I could not effect change through the political realm; however, I could be more effective through doing volunteer work and through education.  I have increased my volunteer involvement with Children Aid Society of Toronto and have been with that organization for over 25 years and continue my board work with various organizations.
Two years ago, I connected with my friend and colleague and in conversation began looking at the struggles Black Canadian youth face based on how they are socialized, how they are raised and how they are perceived.  Additionally, I met educated Black youths who cannot find jobs.   As a result, we decided to undertake a new business endeavour to address the disparities and discrimination faced by Black Canadians.   Black PIERS (Performance Image Exposure Recognition Success), provide knowledge and skills for Black youth to help compete in chosen career pipelines.   The goal is to aid in increasing Racial Diversity and Inclusion in the workplace and leadership roles, and economically strengthening the Black community.  We are actively recruiting mentors from various career fields to match with Black youth mentees from elementary, secondary, post-secondary and the underemployed sectors.