JLT MISSION
The Junior League of Toronto is an organization of women whose mission is to advance women's leadership for meaningful community impact through volunteer action, collaboration, and training.
JLT VISION
An organization of women trained as civic and community leaders creating lasting and meaningful impact.
JLT VALUES
Diversity:
The Junior League welcomes all women who value our Mission. We are committed to inclusive environments of diverse individuals, organizations and communities. (already adopted)
Collaboration:
Lasting societal change is achieved through collaboration which inspires us to accomplish more together
Community:
A strong sense of community is essential to human well-being and provides a foundation of inclusion, which allows us to make a greater impact on the world around us.
Empowerment:
Empowerment of women is a necessary requirement to create positive, lasting societal change
Leadership:
The unique power of women's' leadership abilities transforms communities for the better, allowing us to make a collective difference.
Respect:
Respect is a fundamental human right and instills in us an unconditional positive regard for others
Service:
Service empowers us as catalysts for lasting community and societal change. Through service we build core relationships with others and it's the lens through which we decide how we will invest our time and resources.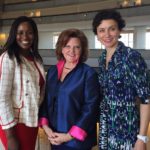 2016 Mary Harriman Community Leadership Award to Martie Russel
We are excited to announce Martie Russel is the winner of the Association of Junior Leagues International (AJLI) 2016 Mary Harriman Community Leadership Award.
"A constant for me is my affiliation with the Junior League. The League for me is my oasis of like-minded family and friends with whom we share values and a vision of tomorrow."
I find the League will always stand behind its members and we carry on…together…that's just what we do. The support and caring we have for one another is what strengthens our resolve and is exactly what I know Mary Harriman would have done as well".  ~Martie Russel AJLI 2016 Mary Harriman Community Leadership Award Recipient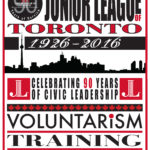 Celebrating 90 Years of Service 
The Junior League of Toronto is celebrating 90 years of volunteerism and training our members to become civic leaders in the GTA. Watch our 90th Anniversary video  to learn more! 
"What has occurred in the League's 90 years of service is simply incredible. As an organization, we will use this year to reflect and celebrate our accomplishments while at the same time, building the capacity of our organization for the next 90 years." ~Stephanie Knox, JLT president 2015-2017.