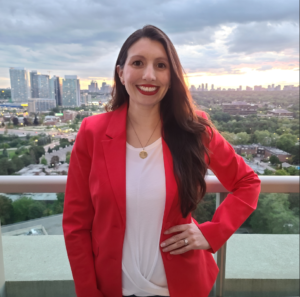 Dear fellow Junior League members, community partners, and friends,
On behalf of the 2022-23 Board of Directors of the Junior League of Toronto (JLT), welcome!
It is my honor and privilege to serve as President of the Junior League of Toronto, working hand in hand with the incredibly talented women in this organization and with our partners. Since 1926, the JLT has served Toronto with our mission of advancing women's leadership for meaningful community impact through volunteer action, collaboration, and training. With more than 290 members, we aim to create a lasting, meaningful impact in the area of mental health with a focus on improving self-esteem in youth.
Over the past two years, the JLT reimagined how we would serve the Greater Toronto community persevering with strength and tenacity for those communities who need us most. We continued our partnership with the Gifts of Light program at the Centre for Addiction and Mental Health (CAMH). This program facilitated both virtual and in person activities through cultural experiences, events, and classes for CAMH clients in the Early Psychosis Unit in order to build self-esteem in youth facing mental health challenges.  We also continued our commitment to further combat Human Sex Trafficking (HST) through awareness and member education. There are many exciting initiatives in store for this year including more programming at CAMH, HST awareness, Community Impact Events, and our Annual Fundraiser Chef's Showcase in Spring of 2023.
At the Junior League, we welcome all people who identify as women that are ready to embrace our mission and share our values. We are committed to inclusive environments of diverse individuals, organizations, and communities. Consider joining us in our mission by directly impacting the communities we live in. For more information on membership or donating to the Junior League of Toronto, please email info@jlt.org or visit our website at www.jlt.org.
You can also find us on our social media pages to learn more about the work we do:
Facebook @JuniorLeagueOfToronto
Instagram @jrleaguetoronto
LinkedIn @junior-league-of-toronto-jlt
I would like to add that the JLT has recently moved from our office building at 539A Mt. Pleasant Rd. and will now be at a shared office space at 1920 Yonge Street, Suite 200, Toronto, Ontario M4S 3E2. With change brings new opportunities and we look forward to what the future holds.
On behalf of the Board of Directors and members of The Junior League of Toronto, thank you for your interest in our organization.
Sincerely,
Jessica Naman
President, 2022-23
Junior League of Toronto