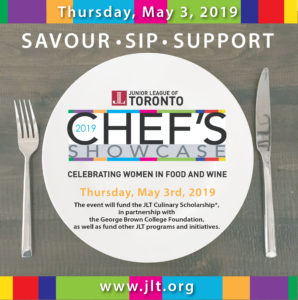 An exciting new culinary event on Toronto's foodie calendar. The first annual JLT's Chef's Showcase was held on Thursday, May 3rd, 2018. 
It was a sell out success! 
The event, that took it's first steps in 2018 is planned again for May 2, 2019.
It features the opportunity to eat, drink, mingle and support the work of the Junior League or Toronto and the creation of the Junior League of Toronto Culinary Scholarship*, incooperation with the George Brown Foundation!
In in our inaugural year the event celebrated alumni of George Brown and it was charmingly hosted by celebrity chef, TV personality and George Brown alumni; Chef Christine Cushing!    
Please support the chefs that have supported us letting them know that they are appreciated for volunteering their time and talent to the JLT!