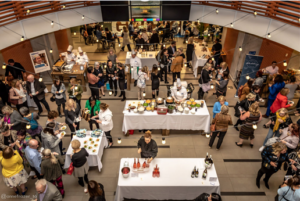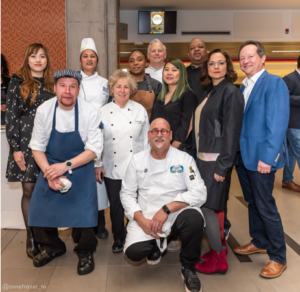 Returning April 2023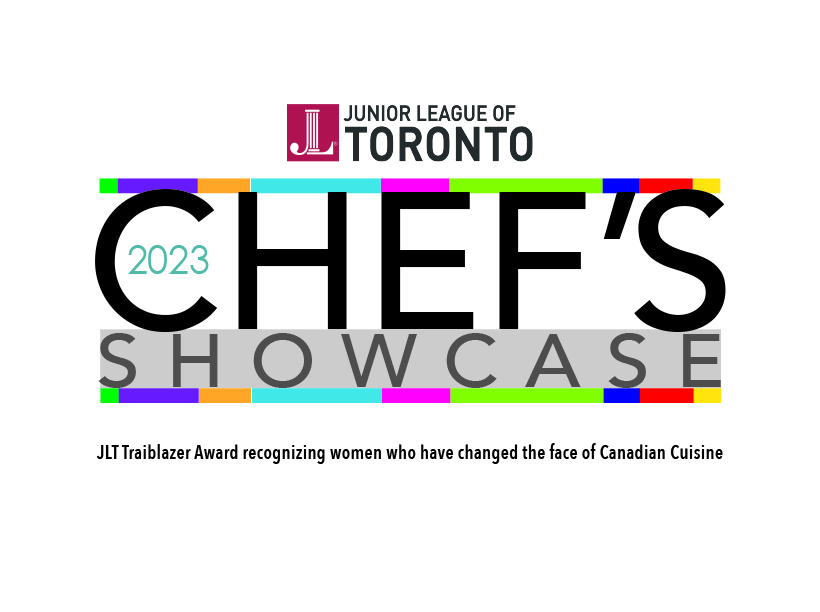 The JLT Chef's Showcase a Huge Success!
The JLT Chef's Showcase, celebrating women in food and wine, was held May 2, 2019 at the George Brown Centre for Hospitality and Culinary Arts for the second year. It was an evening to "savour, sip and support", featuring eleven celebrity chef food stations, wine pairings, a silent auction and "Wine Pull".
Hosts Christine Cushing and Michael Fagan led the evening's festivities. Funds raised at the event will support the JLT Culinary Scholarship in partnership with the George Brown College Foundation, as well as fund other JLT community programs and initiatives. The scholarship, created last year, assists George Brown students graduating from the Culinary Skills Preparatory Program.
A sincere thank you to our sponsors, Noble Estates Wine and Spirits and Starlight Investments. Thank you also to everyone who supported by attending the event.
For more information on our featured chefs click here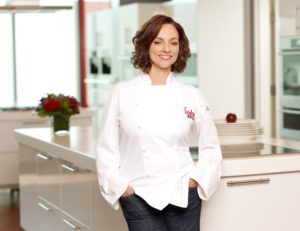 About Christine Cushing:  Christine graduated with honours from George Brown College before going on to finish at the top of her class at the famed Paris École de Cuisine La Varenne. In Toronto, Christine worked at renowned kitchens such as The Four Seasons Hotel and Scaramouche before going on to the ground-breaking Food Network flagship series, Christine Cushing Live. Christine has since continued to share her love and knowledge of food on TV with Fearless in the Kitchen, the Marilyn Denis Show, and with her documentary series, Confucius was a Foodie that premiers on PBS station WNED on January 4, 2019 at 8PM. .  Christine has been teaching viewers how to cook for 20 years and was recently nominated for 'Best Host in a Program of Series' at the 2018 Canadian Screen Awards. The busy and accomplished George Brown alumni has also created her own artisan food line: Christine's Cushing's olive oil and sauces.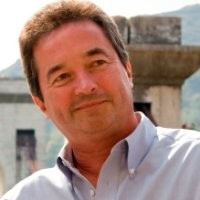 About Michael Fagan: Michael Fagan, known as "The Matchmaker" is a former columnist with the LCBO's Food & Drink magazine. Featured on the "Discover" series (the LCBO's Award-Winning product knowledge video series available for on-line viewing as a free podcast through iTunes and YouTube), Michael's 30-plus years in the industry is backed by respected credentials such as the Wine & Spirit Education Trust Advanced Certificate and membership in the Association Internationale des Maîtres Conseils en Gastronomie Française. Michael and Christine have worked together on TV on both "Christine Cushing Live" (Food Network Canada) and currently on "Confucius was a Foodie" (PBS stations).
Please support the chefs that have supported us letting them know that they are appreciated for volunteering their time and talent to the JLT! 
Thank you to our Returning Sponsor –

Noble Estates was founded in 1990 by Philip and Debra Mirabelli. In December 2013, the company was purchased by Craig de Blois, who together with his team, is building on the very successful first 25 years. Noble is recognized as having a dynamic sales force, and is proud to represent many of the top wine and spirits producers from around the world, offering full service sales and marketing.
With a sole focus on the Ontario market and the LCBO, we promise to deliver world class Sales and Brand Management to both our suppliers and the LCBO. We pride ourselves on building and maintaining strong, long-term relationships with all of our suppliers and customers. Noble strives to exceed client expectations by continually adjusting to their needs.
and our Silver Sponsor –

Starlight Investments is a privately held Toronto-based, full service, multi-family and commercial real estate investment and asset management company driven by an experienced team of over 150 professionals. The company currently manages over $9.0 billion of direct real estate as well as real estate investment securities. Investment vehicles include institutional joint ventures, True North Commercial REIT, Starlight U.S. Multi-Family Funds and Starlight Capital Funds. Starlight Investment's portfolio consists of approximately 36,000 multi-residential units across Canada and the U.S. and over 5.9 million square feet of commercial properties.