JOIN THE MOVEMENT
The Junior League: A Volunteer Powerhouse
The Junior League is a charitable, not-for-profit organization of women who make sustainable improvements in their communities as a result of the civic leadership training and expertise they obtain through their Junior League experience.  The Association of Junior Leagues is comprised of more than 140,000 women in 291 Junior Leagues throughout Canada, Mexico, the U.K. and the U.S. Collectively, we constitute one of the most powerful volunteer organizations in the world.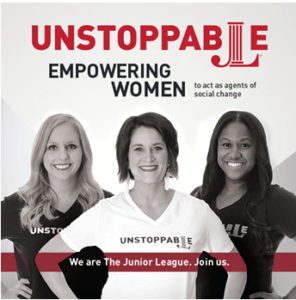 The Junior League experience
Members of The Junior League acquire mentors who help them reach their potential as leaders, form strong ties with their communities as a result of the impact they make, and develop friendships that last a lifetime.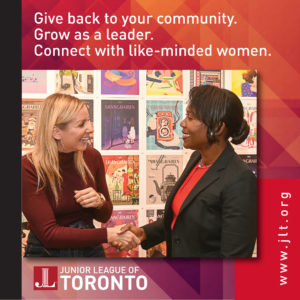 The benefits of membership
Members of The Junior League obtain valuable skills and experiences that enable them to reach their potential as leaders in their communities. Here are a few of the areas in which they acquire skills or knowledge:
Leadership
Organizational development
Community needs assessment
Mentoring
Advocacy
Communications
Fund development
Strategic planning
Negotiation
Consensus-building
Networking
If you are interested in making a commitment to volunteering, developing the potential of women and improving communities in the Greater Toronto area, we would love to hear from you!