Civic Leader – Lisa Stevenson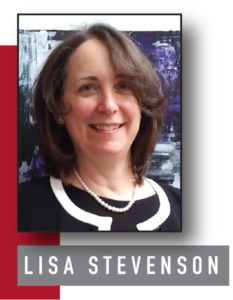 When did you join the Junior League?
2009
Describe some of your Junior League projects and committee work.
I have worked as a member of the Community Action Committee (Healthy Living Workshops, Advocacy) and the Fund Development committee. I have also served as Board Treasurer. I am currently Vice President, Training.
How has the Junior League impacted your life?
When I joined the Junior League of Toronto, I just wanted to volunteer and gain some basic, not-for-profit training; I did not anticipate how much I would gain from the Junior League. My membership has exposed me to a network of incredible women with a vast range of skills. I have gained a wonderful network of friends and valuable hands-on experience in the many aspects of not-for-profit organizations, including governance, accounting, tax receipting, fund raising and project management, as well as exposure to a variety of other charities in Toronto. Just as valuable to me has been the confidence I gained to take on roles I would have never considered in the past and the ability to overcome the fear that had previously held me back from taking on civic leadership roles.
The Junior League has provided me with hands-on experience that you simply cannot get from courses on non- for-profits. I look forward to continuing my support of and growth with the Junior League and to providing assistance to other charities in the future. I also look forward to assisting and mentoring other Junior League members, should the opportunity present itself.