Civic Leader – Marsha Brown – October 2020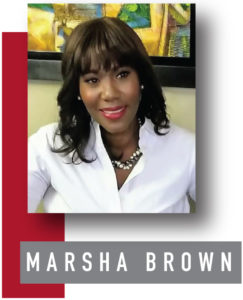 When did you join the Junior League? 2016
Why you joined the JLT or what you expected to gain from the JLT?
I first heard about the JLT through a former President (Nadine Spencer) who invited me as a guest to a couple events. Eventually, I attended the training for new members and joined the JLT because its mission aligned with my own goals as a Civic Leader, who has been making lasting impact for the past 20 years. Through my career path I have worked with families, women and youth from disadvantaged communities at Toronto Community Housing, and the YWCA. It was an easy transition to join the JLT.
General summary of your JLT experience, skills and attributes learned.
My advocacy and community engagement skills have been enhanced through the training opportunities and placements I've had at the League. It's been tremendously rewarding to, serve on the JLT Chefs Showcase and training team which were a natural fit given my passion for education, training, and me being a Foodie.
I also assisted with Tea for Teens, and the Youth Without Shelter – Time for Change initiatives. Under the Time for Change initiative, I went into the subway and asked for change. It was a good reminder that humility and patience are core skills to have. As is my practice, I keep coins in my car so if I am approached at an intersection, I can assist those asking for change. I've always felt deep empathy for individuals who have to pan-handle for their daily survival.
How has the JLT impacted your overall life?
Prior to joining the JLT, I supported and volunteered with many organizations. Due to health challenges I've had to readjust my life. With that came a greater awareness of the complex issues facing disenfranchised individuals. I am more strategic about how I give back to the community and invest my time. Prioritizing the organizations which I support and refining my involvement in order to produce sustainable and lasting impact has been beneficial. Through my philanthropic endeavors and volunteerism, "I've gotten much more satisfaction for the things that I've done for which I was not paid," David Souter.
 How has your JLT experience helped in other civic leader roles or encouraged you to try other civic roles?
As a member of the JLT, I experienced first-hand an organization that functions as a collect, a finely tuned entity and is effecting significant change. My increased skill set provided the tools necessary for to me take on the role of Vice-President at the Jean Augustine Centre for Young Women's Empowerment.
Additionally, as a Director with Ryerson University Alumni Association, my alma mater, I established the Women Champions of Diversity Award. The award is for female students at Ryerson who require financial support and are also doing diversity work in the community. The award was the first of two female centered legacy projects created in lieu of my 50th birthday, November 2019. My goal was to raise $10,000, however to date the award has exceeded $13,000 with a new goal to raise $25,000. In light of George Floyd's death and the Black Lives Matters movement, the award was timely due to its focus on diversity, advocacy for women of colour and the issue of disparity in Canada.
In 2019, I was appointed an Ambassador for Food for Poor Canada (FFPC), by Samantha Mahfood, Executive Director, an honor that I do not take lightly. FFPC is an organization that provide basis aid, builds schools and homes for communities in the Caribbean and Latin America, as well as providing aid in Canada. A volunteer with this organization for the last 4 years, my 2nd project was a commitment to raise $10,000 to build a home for a destitute family in Jamaica in November 2020. The build has been postponed until next year as a result of COVID-19.
My mother Lolita Brown Phillip and my paternal Grandmother – deceased, have been instrumental in shaping my passion for volunteerism. Also, I have had a number of stellar women like Paulette Senior and retired Citizenship Judge Dr. Pamela Appelt, guide, mentor and support me along the way.
On September 18th, Justice Ruth Bader Ginsburg, Justice of the Supreme Court of the United States died. She epitomizes the civic leadership that we hold dear to at JLT, and was a role model to me in many ways. Her most powerful statement which resonates with me is: "I would like to be remembered as someone who used whatever talent she had to do her work to the very best of her ability. And to help repair tears in her society, to make things a little better through the use of whatever ability she has." Each life we impact as a League brings us closer to this ideal.