Civic Leader Profile – Emily Beckett-Sward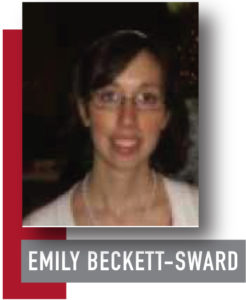 When did you join the Junior League? 2010
Describe some of your Junior League projects and committee work.
I have been a member on various committees, including fundraisers, heritage, training and community action programs. I am currently Vice President, Community.
How has the Junior League impacted your life?
The Junior League of Toronto appealed to me because it was an opportunity to meet other people who care about their community and want to find solutions rather than complain about problems. For me, volunteering is about stepping up when there is a need for someone to lead.
My favourite Junior League experience was at one of the Heritage Teas, where newer members meet seasoned Junior League members. I learned so much about volunteering and effective committee management from more experienced members. I love being part of an organization that has such a great store of wisdom and experience about management, philanthropy and the community.
The JLT has had an incredible effect on me. Since joining, I have gained much more confidence in leading other volunteers. I have also become better at chairing meetings and committees, as well as event planning. I am learning to bring out the best in the volunteers I work with, which is one of the biggest challenges of leadership roles.
Tell us about some of your community work outside of the Junior League.
Outside the Junior League, I am a site coordinator for Let's Talk Science, a charity that promotes science literacy to youth through hands-on, minds-on activities.