JLT Training – Why Do We Read Land Acknowledgments?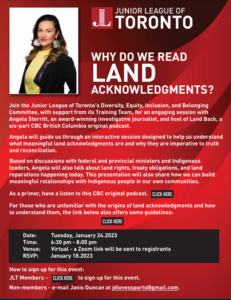 Join the Junior League of Toronto's Diversity, Equity, Inclusion, and Belonging
Committee, with support from its Training Team, for an engaging session with
Angela Sterritt, an award-winning investigative journalist, and host of Land Back, a
six-part CBC British Columbia original podcast.
Angela will quide us through an interactive session designed to help us understand what meaningful land acknowledgments are and why they are imperative to truth and reconciliation.
Based on discussions with federal and provincial ministers and Indigenous
leaders, Angela will also talk about land rights, treaty obligations, and land
reparations happening today. This presentation will also share how we can build
meaningful relationships with Indigenous people in our own communities.