Civic Leader Profile – Lori Zucchiatti O'Neill – October 2020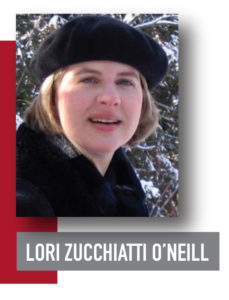 Year Joined the JLT:   2000
Why you joined the JLT or what you expected to gain from the JLT?
I have always been passionate about doing volunteer work and I was looking for more variety in my volunteer work.   Initially, I learned about the JLT organization when I attended the JLT Showhouse fundraiser and read the JLT brochure provided.  I thought joining the JLT would be a nice complement, as previously my volunteer experience did not include working with an organization focused on training women to become community leaders.  I submitted my JLT application, and completed the provisional year program, which included Super Saturday where I met several women from different age groups.   Twenty years later, I am still a member of JLT, serving now as a Sustainer Committee member.
General summary of your JLT experience, skills and attributes learned.
In addition to serving as committee member on initiatives like JLT Tea to Help Teens, Ad Hoc JLT Showhouse Review, 75thAnniversary, and Sustainer Membership Think Tank, I held several JLT leadership roles; including Communications Chair, Treasurer of the Board, Treasurer of the Canadian Federation of Junior Leagues, Placement Chair, VP Finance, Secretary of the Board, Secretary of JLT Showhouse Steering Committee, and JLT DeLecTABLE Designs Designer Liaison Chair.
The roles I took on throughout my JLT career allowed me to refine my team building and human resource engagement capabilities.  I learned how to run productive and agenda-focused meetings, how to manage group dynamics, how to balance working with diverse personalities with varying needs, responsibilities and engagement and how to self-care, i.e. achieving volunteer responsibilities without feeling overloaded.
How has the JLT impacted your overall life?
I have learned that I can juggle many different roles and be still effective.  I have applied some of the training to my work in volunteer management. I am more conscious of showing appreciation to people in general.
I value the JLT friendships that I have developed over the years.
How has your JLT experience helped in other civic leader roles or encouraged you to try other civic roles?
As a result of the varying leadership roles that I undertook at the JLT, my confidence grew, and I do not hesitate to say 'yes' to other opportunities outside of the JLT.   I took on the role of Fundraiser/Coordinator for my Neighbourhood Association and then the role of Chair of our Executive and our COVID-19 Committee.