Civic Leader – Shevawn Adams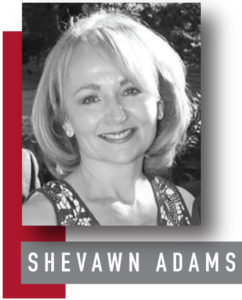 When did you join the Junior League?  1994
Describe some of your Junior League projects and committee work.
I have been involved in numerous Junior League committees, including Tea for Teens, membership and community action. I have helped build homes for Habitat for Humanity, taught English as a second language to deaf new immigrants, as well as chaired fundraisers for a rape crisis and child sexual abuse centre, children's schools and Girls, Inc.
How has the Junior League enabled you to become a civic leader?
The Junior League of Toronto helped me learn what a group of single-minded women, working together, could achieve and how volunteers can truly effect change. My JLT experience helped connect me to the Toronto community and heightened my desire to effect change in that community, especially for marginalized people. The JLT gave me an edge through its collective ability to make connections. The training I received through my Junior League experience prepared me for volunteer leadership roles in the community. I believe that one reason I am sought after for board positions is that I am not afraid to be the dissenting voice, and that is a skill that I learned as a JLT member while advocating for a charity that I believed in.
Rose Cherry's Home for Kids, Chair of Construction of a $1.9M home; lobbied the government for the first ever pediatric palliative care funding.
• Start2Finish, Board Chair – an organization seeking to break the cycle of poverty by using mentors and coaches to assist at-risk school-aged children.