Human Sex Trafficking Program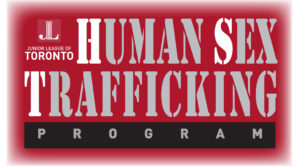 Our League members continue to learn about the impact of Human Sex Trafficking, strengthening our commitment to increase awareness and make an impact to abolish this issue.  Our Team HST has kicked off to a fast start to set the foundation for this year's intentions.
We are building relations with Community Partners who make a difference for victims of HST which will provide opportunities for our members to be get involved and learn from real life experiences.  We will work with Springboard Services again this year and increase our role in the Got Your Back Event.  360Kids' The Hope Program is an excellent wraparound program for victims of HST and they will welcome our support through DIAD opportunities.  As a new associate member of the Toronto Counter Human Trafficking Network, JLT will be represented by Team HST. The Network has representatives of various sectors and organizations, both government, non-governmental and individuals in the Toronto area.
One of the best ways to combat HST is to increase awareness of the issue. With that goal, Team HST will participate in the AJLI Human Trafficking Conference calls to collaborate with other Junior Leagues and keep informed of the Abolish Movement. Many members have also uploaded the TraffickCam app on their phones so they can help by taking photos of hotel rooms that are stored and used by police.
If you haven't done so, you can find it in the Apple App store or click here